Documentation: Post-Purchase Review Campaign for HubSpot-Shopify
CREATING CUSTOM PROPERTIES
Go to your settings by clicking on the cogwheel in the top right of your portal.
Click on

 

Properties

 

on the left side.
Click on

 

Create property

 

(orange button).
Object type

 

is "Contact" and for

 

Group

 

select "Contact information".
Fill out the

 

Label

 

and

 

Description

 

fields appropriately. Then click

 

Next.
Select the correct

 

Field type

 

(in this case, it's binary, so we we selected "Single checkbox").
Click

 

Save

 

in the bottom right. Voila!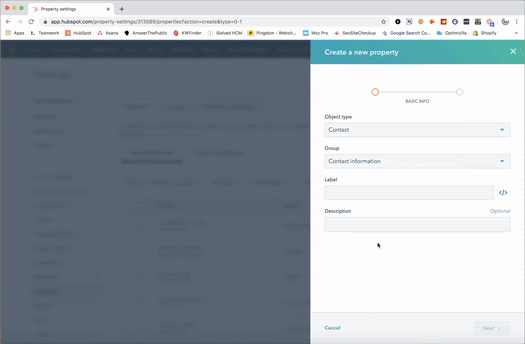 ---
HOW TO HIDE MODULES OR ITEMS INSIDE OF MODULES
To hide modules or items inside of modules, hover over the module you would like to hide and click. The module editor will pop up on the left side.
To turn modules "on" or "off" simply click the appropriate toggle button on the left side. Click

 

Apply

 

and voila!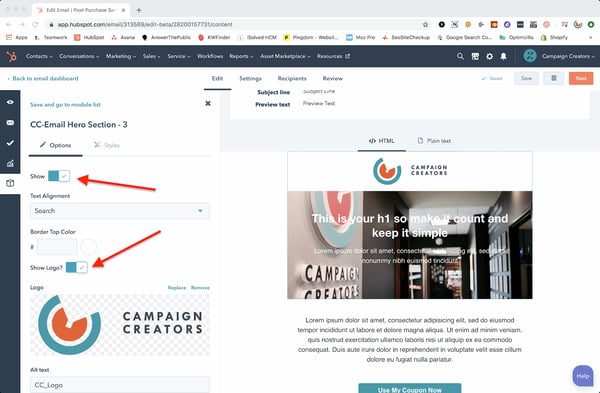 ---
AUTOMATICALLY APPEND A COUPON CODE TO YOUR SHOPIFY URL
Sometimes you want to automatically apply a promo for your customers to make it that much easier for them. One less step in the buyers journey is one step closer to checkout!
In order to add a coupon code to your Shopify checkout URL, all you need to do is:
Select the CTA you would like to use for your promo by selecting the appropriate module.
The module editor will pop up on the left side. Click

 

Edit call-to-action

 

for the appropriate CTA, then click on

 

Edit.
In the first screen, you can change the CTA text. Click

 

Next.
Change

 

URL redirect type

 

to "External website URL". 
For the "Enter URL" field, add your checkout page, but be sure include this URL string at the end: /checkout?discount=COUPONCODE
Note: COUPONCODE should be replaced with the Shopify coupon code you plan on using!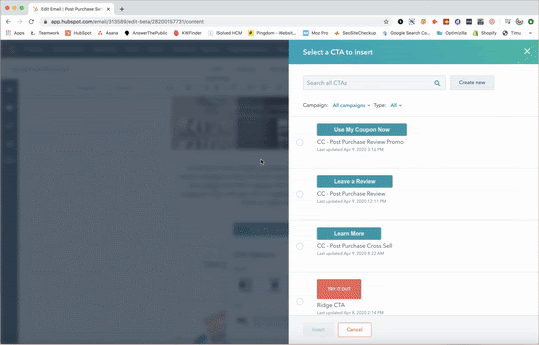 Have additional questions? Email us at express@campaigncreators.com.