Documentation: Post-Purchase Cross-Sell Campaign
POST PURCHASE CAMPAIGN/NEW CUSTOMER CROSS SELL WORKFLOW
All enrollment triggers, delays, and emails are attached to your workflow and should look like this. The only next step is to edit your emails before turning on your workflow. Since this workflow is setup as a deal workflow with one email everyone who meets the deal enrollment trigger will go through the workflow.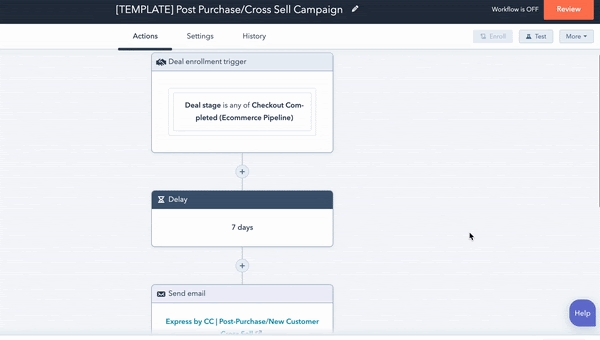 There is no unenrollment trigger set up to remove a contact from with workflow since this is just one touch. It should look like this. No additional set up needed.
---
HOW TO EDIT YOUR POST PURCHASE/NEW CUSTOMER CROSS SELL EMAIL
Hover over the module that you would like to edit and click. Alternatively, you can also click the cube icon on the left side to access a list of modules to edit.
A panel will appear on the left listing the different elements you can customize, such as images, copy, text, color and more!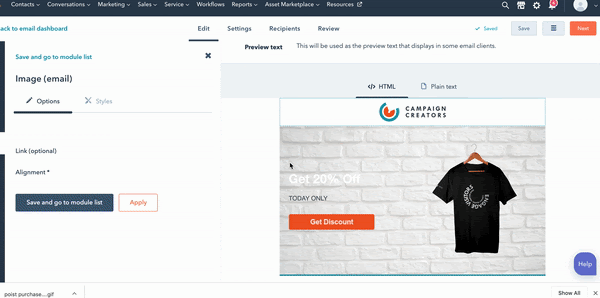 ---
CREATE A CTA BUTTON
You will want to develop a unique CTA button for this email, here is a quick overview that shows how you can replicate the process on your own.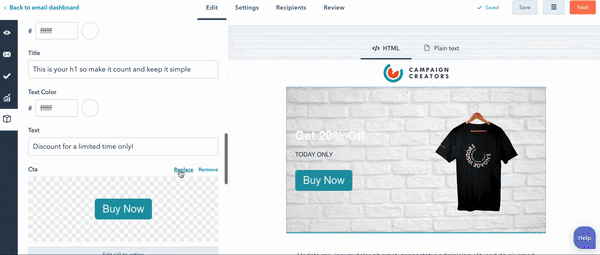 ---
APPLY YOUR WEBSITE'S HEX CODES TO CTA BUTTON
The editor makes it easy for you to quickly customize these templates based on your branding standards. Check out this quick how-to that shows how you can apply your branding colors to the email template in HubSpot.
Here, we use our own logo as an example on our website.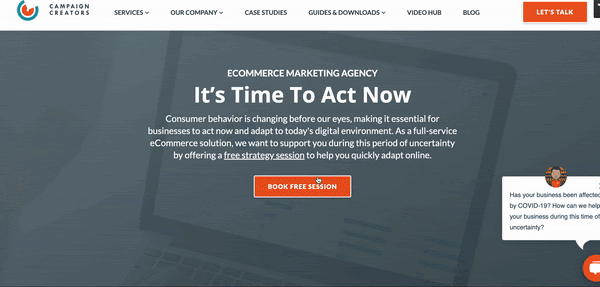 ---
UPDATE YOUR EMAIL CHANGES
To ensure you save all of your hard work, follow these final set up steps before savings your email for automation.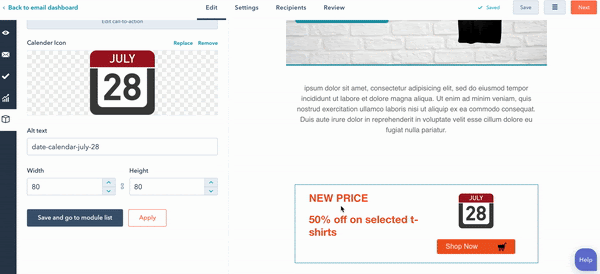 Have additional questions? Email us at express@campaigncreators.com.